Bespoke exhausts for prestigious vehicles
Are you looking for a bespoke exhaust for your prestige vehicle? Longlife has what it takes to fit exactly the right exhaust system for your luxury car. If you own a prestige vehicle then it's likely to be highly precious to you and when the exhaust system fails, you'll want to place it in the right hands. Longlife is an experienced exhaust system builder able to fit bespoke exhaust systems of every type.
Full range of silencers
Longlife offers a range of over 1,400 silencers. This means we can easily build you the perfect bespoke exhaust system which will keep your prestige vehicle sounding exactly as it should.
Tailpipe designs
You wouldn't want your new bespoke exhaust to look anything less than perfect, which is why you'll be pleased to discover Longlife's full range of tailpipe designs. They will allow you to pick a look in keeping with your prestige vehicle's heritage. We have more than 30 years' experience in the exhausts sector, and have unrivalled knowledge that spans all vehicles and exhaust systems.
Lifetime guarantee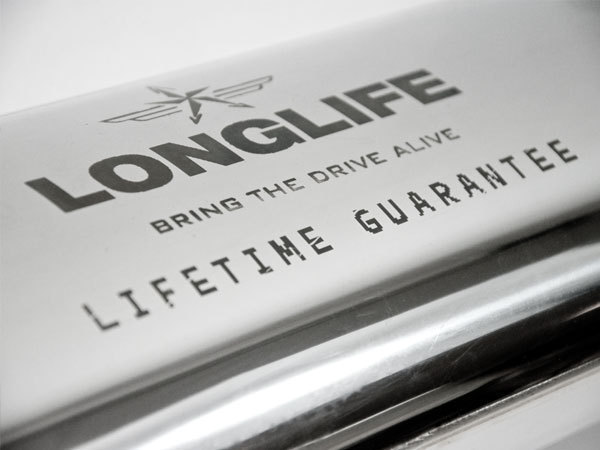 All Longlife Exhausts are guaranteed for life giving you peace of mind and the knowledge you will never need a new exhaust for as long as you own the vehicle.
Experience and know-how
Our trained technicians are equipped with all the expertise to be able to perform a fully professional exhaust system replacement for all types of prestige vehicle.
Stainless steel exhausts
Longlife's stainless steel exhaust replacements, despite being made using the finest 304/430 grade stainless steel, sometimes cost less than mild steel standard replacements.